Heartland Boys Basketball - State Bound in 2018
Heartland vs Osmond - Thursday, March 8th @ 2 PM
Congratulations to the Heartland Boys team for qualifying through a wildcard for the 2018 State Boys Basketball Tournament.
More information will follow:
Ticket prices are $7.00 for adults and $5.00 for students.
Signs and Banners. Signs and banners that are not directed at the opposition and are not
derogatory in nature may be placed on walls behind the seating areas in the High Schools
ONLY. There will be no signs or banners allowed at the Devaney Sports Center or
Pinnacle Bank Arena. These signs or banners will not be permitted on walls or the stands near the playing floor. Signs, banners, and school flags should not be carried around the floor. Signs that are not political, obscene, or in bad taste may be posted within the playing facility as long as the signs do not interfere with the spectators' view of the game or with the playing of the game. No balloons inside the facility.
Artificial Noisemakers. The use of artificial noisemakers is prohibited. (Examples: air horns,
whistles, bells, Thunder Sticks, etc.) Megaphones are to be used by cheerleaders only. Band instruments, including drums, are not to be played at any time other than when the entire band is playing. Bands should not be permitted to play except prior to the game, at intermissions, and time-outs. At half-time, bands are not to play until drill team performances are completed unless the band accompanies the drill team.
Lincoln Northeast Parking for spectators. For spectators, parking is available in the school lots, the Catholic Church lot East of the school and on-street parking has been arranged on one side of the street only.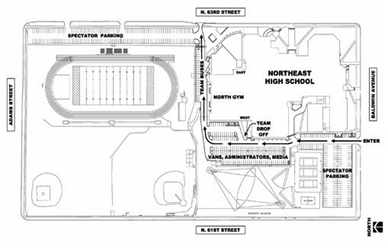 Click on link for full bracket:2018 Boys State Basketball Tournament