Heartland Results from State Track Meet
---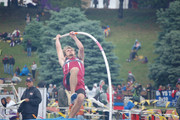 Ben Driewer cleared 14' 8" in the pole vault to win the all class gold medal.
---
Photos provided by Kelsey Bergen
HEARTLAND BOYS FINISH IN 6TH PLACE AND GIRLS FINISH IN 9TH PLACE AT STATE TRACK MEET
BEN DRIEWER WINS ALL CLASS GOLD MEDAL IN POLE VAULT
The Heartland girl's and boy's track teams completed the 2017 track season with a terrific finish at the state track meet in Omaha. The boy's team finished in sixth place, scoring 26 points. The girl's team accumulated 24.5 points for a 9th place finish.
The girl's team got off to a great start by scoring well in the pole vault and long jump events. Olivia Casper cleared 10' to finish in a tie for second place in the pole vault, while teammate Sadie Carr vaulted 9'6" to finish in a tie for seventh place. In the long jump Taylor Quiring leaped 16' 4.75" for a second place finish, and Ellie Steingard jumped 15'11" for a sixth place finish. Ellie Steingard competed in the triple jump, but failed to get a mark in that event.
On the track cousins Taylor and Brittany Quiring started the scoring by finishing 6th and 8th respectively in the 800 Meter run. Taylor finished with a time of 2:23.0, while Brittany's time was 2:24.4. Following this event, the 400 Meter relay team of Bailey Peters, Kalea Wetjen, Sadie Carr, and Ellie Steingard ran well but finished in 11th place with a time of 52.5. Taylor Quiring failed to advance to the finals in the 400 Meter dash with a time of 1:00.97.
Brittany Quiring broke her own school record by nearly 5 seconds in the 1600 Meter run with a time of 5:20.9 and finished in eighth place. The 1600 Meter relay team of Taylor Quiring, Brittany Quiring, Bailey Peters, and Ellie Steingard failed to score and finished in tenth place with a time of 4:13.4.
The boy's team was led by Ben Driewer and Austin Stuhr. Ben Driewer garnered the first all-class gold medal ever for Bradshaw, Henderson, or Heartland Community School by clearing 14' 8" on his final attempt in the pole vault. Austin Stuhr finished 4th in the 400 (51.9), 5th in the 100 (11.1) and 8th in the 200 (23.0).
The 400 Meter relay team of Ben Driewer, Lane Huebert, Noah Boyd, and Austin Stuhr finished in 7th place with a time of 45.0. Kyle Ott had a great meet finishing in 5th place in the shot put with a heave of 50' 10".
Coach Larry Vancura was very pleased with the track season: "Competing in Class C this year I didn't know how well we would score, but I knew all of our athletes would compete well. The girl's team won the Southern Nebraska Conference track meet while the boys were runner up. Anytime you accomplish those finishes in our tough conference, you know you have a great chance of doing well at the district and state levels. We had a great group of athletes this year who worked hard at practices and competed very well in all of their events."