FFA Officers Attend COLT Conference
---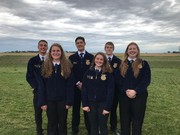 L to R: Sentinel-Maverick Hiebner, Secretary-Lauren Quiring, President-Peyton Ott, Jr.Advisor-Nema Stracener, Treasurer-Josh Quiring, Reporter-Rachael Dente
---
On May 28-29, the Heartland FFA officers had the opportunity to attend the state COLT conference at The Leadership Center in Aurora. While attending, the students learned many skills that would improve their leadership and participated in activities that would bond them as a team. The skills they learned include being taught how to effectively plan a Program of Activities, how to develop teamwork skills, and how to develop S.M.A.R.T. (Specific, Measurable, Attainable, Relevant, Timely) goals. The officers also had a chance to meet two of the National FFA officers and discuss their chapter's business with the current state officers.
In order for the Heartland FFA chapter to be successful, the officers had to realize the main goals they wanted to accomplish. The team analyzed their chapter's strengths and weaknesses and decided that the main concern this year was a need to increase member involvement. They realized that in order to conduct efficient meetings, have successful fundraisers and community service activities, they had to encourage members to stay involved. Once this was realized, the officers decided to set a minimum number of activities and competitions each member must participate in, in order to have the opportunity to attend state FFA.
Multiple times throughout COLT, the officers and adviser came together with the two state officers that will be visiting them in the coming year; the state reporter, Marie Meis, and the state vice president, Jordan Popp. The chapter discussed their Program of Activities and the state officers gave them advice on how they could improve or possibly change the year's schedule so the chapter could make the most impact on its members. Heartland's officers also had the opportunity to discuss with the National officers what it took, personally, to become an inspiring leader; the national officers who attended COLT were secretary, Erica Baier, and vice president, Ian Bennett.
Another event the Heartland FFA officers participated in was an opening ceremony competition. The officers recited the FFA opening ceremony in front of a panel of judges and received 3rd in their division.