Food Drive
---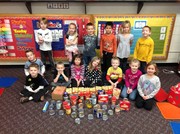 The senior class followed by our kindergarten classes have made the most donations so far this year in the "Catching Food to Fight Hunger Games"! Fun challenge!
---
The National Honor Society, FFA, and FBLA of Heartland Community Schools will host a food drive at school. The donations will be distributed to people in our community and the immediate area within our district. No one is required to participate, but the generosity will be appreciated by the families and individuals receiving these gifts. The food drive will start Monday, December 9, 2013, and will end Friday, December 20, 2013. Food will be delivered on Friday afternoon, December 20, 2013. Please help in this cause.
If you know a family that is in need of this gift or if you have any questions, please call Mrs. Nora Ohrt at school or email her @
nohrt@heartlandschools.net
.
Dec 9: PASTA: spaghetti, lasagna noodles, noodles, macaroni, canned sauces, macaroni and cheese
Dec 10: CANNED FOODS: vegetables & fruit
Dec 11: SOUP AND CRACKERS
Dec 12: BREAKFAST: cereal, pancake mix, syrup, muffin mix, jelly, and pop tarts
Dec 13: CLEANING SUPPLIES: Pledge, dishwashing soap, Ajax, Windex, Mr. Clean, and sponges
Dec 16: DESSERT: cake mix, Jell-O, pudding, cookies, and bar mixes
Dec 17: CHRISTMAS FOODS: chocolate chips, pie fillings, nuts, and Christmas candy
Dec 18: PROTEIN: tuna, peanut butter, cheese whiz, salmon, and chicken
Dec 19: PAPER AND PERSONAL: Soap, toothpaste, toilet tissue, paper towels, kleenex, deodorant, shampoo, combs, razors and toothbrush
Dec 20: APPLES AND ORANGES