Frequently Asked Questions Regarding Possible Building Expansion and Renovation
We would like to offer the opportunity to learn more about the information that is under consideration by the board of education in regard to the possible expansion and renovation of several areas of our facility. If you have additional questions, please post them below or call us at 723-4434. Not all questions will become part of this page.
What was the process of identifying district needs related to these projects?
Last spring, the school board hired Clark & Enerson to conduct a facility study of our district. The goal of the review was to thoroughly evaluate our current facility in terms of necessary updates and repairs and how well the facility serves the needs of our students now and into the future. A team of engineers and architects invested hours into this process, which included discussions with the staff, students, and patrons. Their final report includes a comprehensive list of areas to address over the years as well as ways to meet current needs. From that discussion with the board of education, it was decided to pursue the possible expansion and remodeling of several areas of our facility to serve these identified needs.
What projects are being considered by the board?
Currently, the board is looking at four areas of our building:
Front entrance renovation for security and necessary updates
Additional classrooms to provide space for changes in instructional strategies and increasing enrollment
New locker rooms and weight room to provide necessary updates, ADA access, and improve safety surrounding physical education and activities
Connecting the satellite ag and industrial tech shop with the main building to provide for increased security and environmental advantages.
How much would it cost to complete the main projects being considered?
Current estimates for the areas below are at $5,217,300. The breakdown for each area of construction/renovation:
Increased Security and Updates to the Front Entrance - $310,500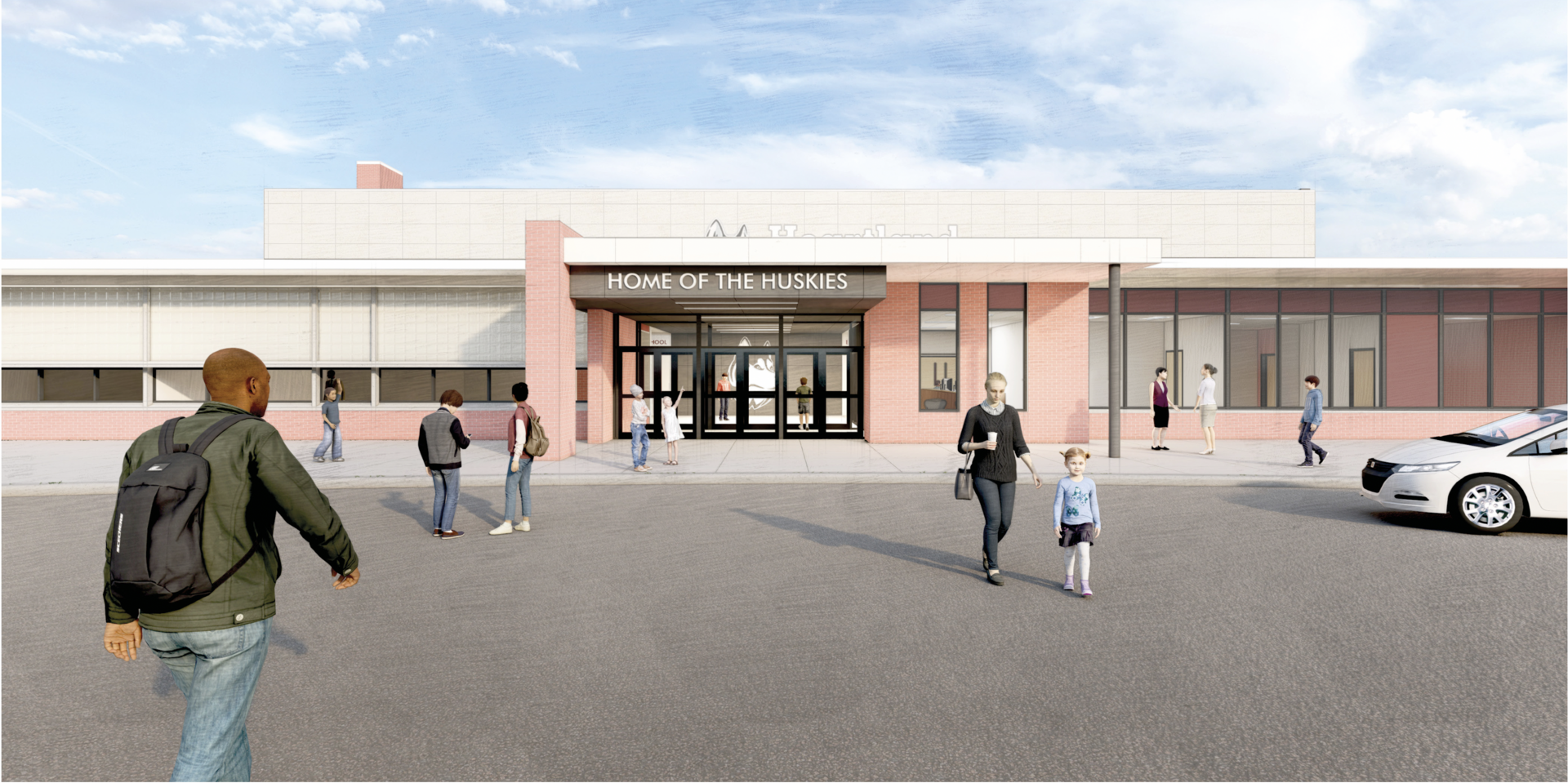 Additional Elementary Classrooms - Four classrooms are estimated at $1,534,000

New locker rooms, weight room, and connection of shop to main building - $3,372,800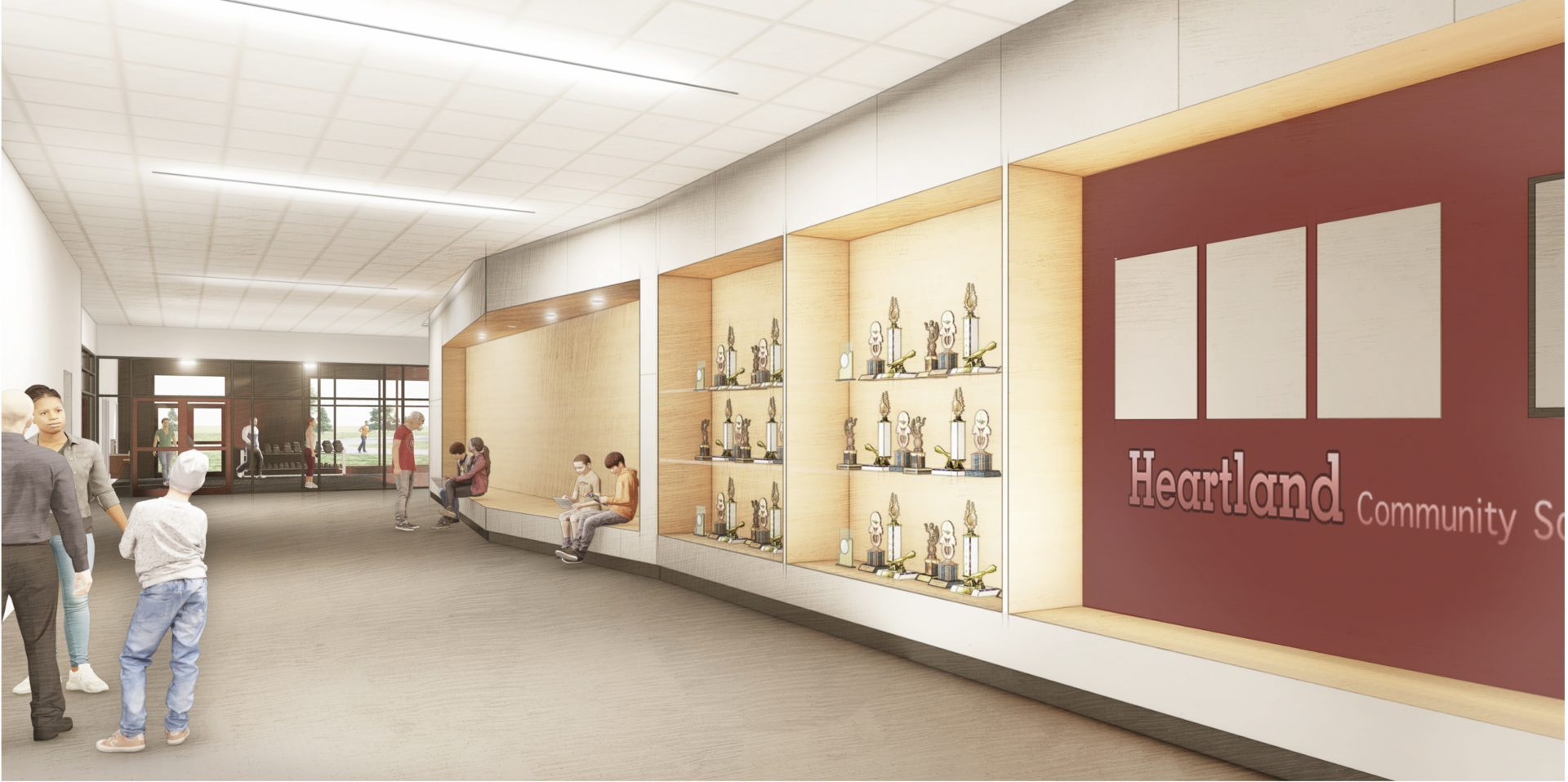 Why do we need this renovation and construction?
The ideas for this proposal precipitated out from a building and facility study completed over the last 9 months. From that study, it was apparent that there were instructional needs for teaching in small groups, security needs, and updates to areas of the building that have not seen renovation in the last 40 years. Teaching strategies have changed over the last 4 decades and security issues have, unfortunately, come to the forefront of what the district deals with on a daily basis. The instructional space limitations and limited ADA access in the weight room and locker rooms also contribute to potential safety issues as training regiments have changed significantly in that period of time.
Why now?
Over the last 10 years, we have seen a trend of increasing enrollment at Heartland. While not at the levels of 50 years ago, with changes in requirements for instruction and increased focus on small group instruction, we are needing to meet with students in hallways and small offices. Fortunately, we have also seen a trend in the last 10 years of former graduates returning to the area to work and raise their families. The City of Henderson is beginning work on a 30+ lot housing subdivision and Bradshaw has had conversations of expanding housing, both of which will certainly bring more families to the Heartland district.
From a fiscal standpoint, interest rates remain extremely low making it an attractive time to borrow funds for these projects. The district is debt free and our tax asking of patrons is considerably lower than other schools in our area. The Board of Education has been and will continue to be fiscally responsible to the taxpayers while providing a quality education and updated facilities for our students.

If this project is approved by voters, how much would I have to pay in taxes per year?
If the board decides to move forward with a bond referendum in the spring and that bond issue is approved by voters, estimates would be as follows:
$5.2 million financed over 20 years at current interest rates and land values would result in an additional 5.25 cent levy per $100,000 of property. For example:

Every $100,000 in residential or commercial property, valued at 90%, would translate to an increase of $47.25 per year or $3.94 per month.
Agricultural land would be valued at 50% for bond purposes, so for every $100,000 of property, one would expect to pay an additional $26.25 per year or $2.19 per month. Using a per acre value of $10,000, the taxes would be approximately $2.63 per acre per year.
What would this do to our tax levy compared to other school districts in our area?
The graph below shows the current 2021 levies from schools in our area. As one can see, our tax rate is considerably lower than other schools on our boundaries. Even if these suggested projects were underway, the additional 5.25 cent levy would bring our total to just over 59 cents - nearly fourteen cents below the next lowest district.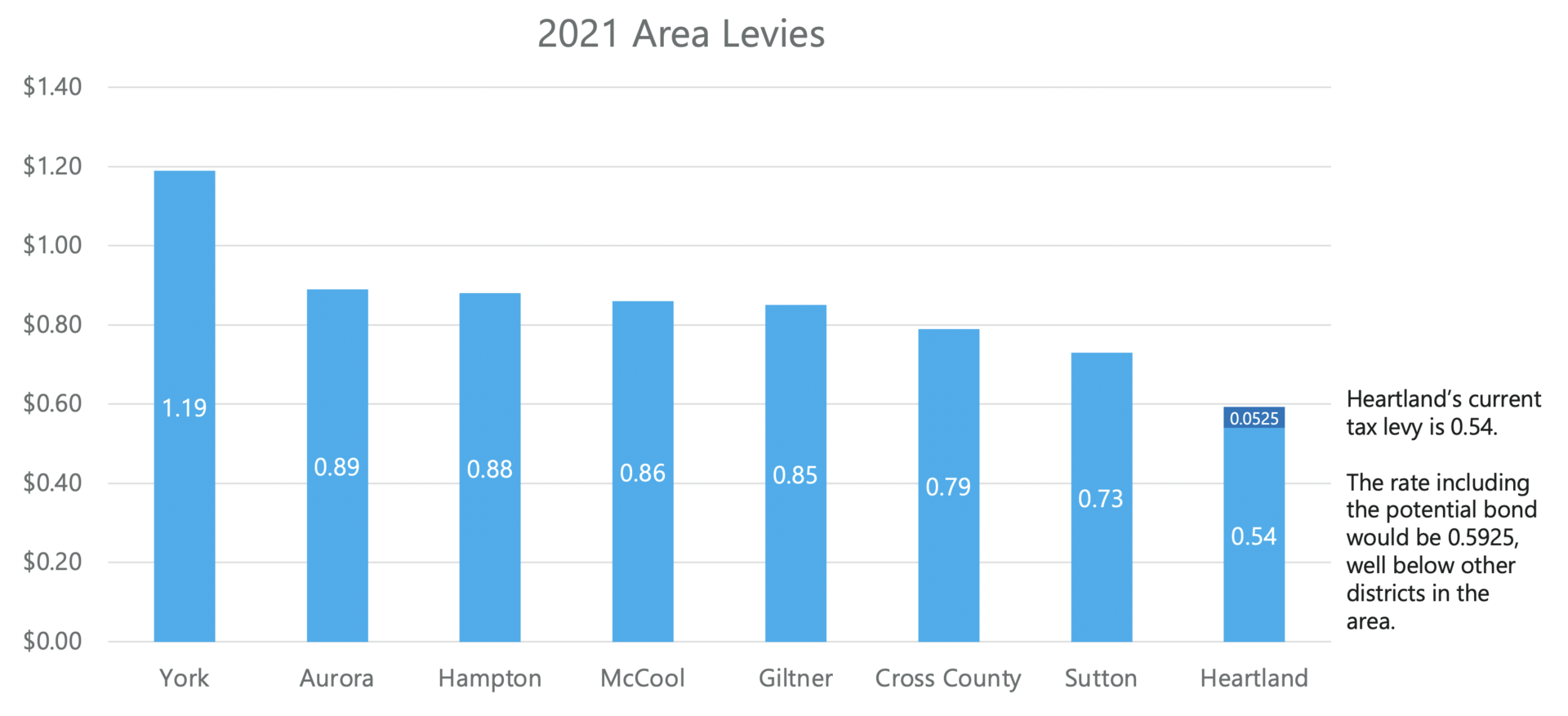 Has it been that long since we added a new gym and theater, including locker rooms and a weight room?
The last time that the district asked for a bond issue was for the north gymnasium, locker rooms, and the theater ... nearly 40 years ago.
When will the board decide if they are going to move forward with any parts of these ideas?
If the school board decides to move forward with a bond referendum, that action will need to take place at least 50 days prior to a special or general election. As an example, if they decide to have an election during the May primaries, they would need to pass that resolution in prior to March 1st.
If a bond were to pass this spring, how long would it take before the facilities are ready for use?
If a is passed in the spring of 2022, the earliest projected completion date would be the fall of 2023.
Would the general public have access to the new weight room facility?
Yes. The design would incorporate security doors and a corridor that would allow the general public to gain access with an electronic door fob.
I don't have children in school. Why should I support these ideas?
While we cannot tell you how to vote, we do know that a quality school district with up-to-date facilities draws new families to the area. In terms of economic development, our future workforce in Henderson and Bradshaw is reliant on families staying in or moving into our district. In regard to funding, those paying taxes for city, county, or school operations and construction are all helping to keep these communities vibrant and moving forward. Parents with grown children no longer in school had people in that same situation paying for the education of their children years ago. As a societal need, it is one of those things we all invest in to keep our communities healthy for years to come.
Is the school planning to open a daycare facility?
No. At this time, the board is exploring the idea of a local economic development group raising the money to build and operate a facility on our campus. The board is not planning to use any tax dollars for construction or operation of the facility. We are hopeful that if the money is raised privately, the funds will be donated to the school for construction so that the school would own the property and, in return, lease the property back to the group in charge of daycare operations.
Building the facility as an expansion of the current building would be convenient to parents with small and school-age children and for our educational specialists that must serve young children with special needs. We would like to see this group offer before and after school daycare, as well.
If the daycare facility were to be included on the bond, it would add 1.63 cents on the levy, which would translate to $8.15 per year for $100,000 of ag land or $0.68 per month.
How can I provide ideas or ask additional questions?
The board is hosting two public feedback meetings - November 11th and December 2nd at 6:30 PM in the school theater. You can also add a comment at the bottom of this article, call the school at 402-723-4434 or email Mr. Best by clicking here.
Can private donations be used for this project?
Absolutely. Private donations can be used to offset potential levy increases for any part of the project as well as the potential for a daycare facility. Those donations can be filtered as tax deductible through the Henderson Community Foundation.
If I am in favor of these projects, how can I help educate the community about these projects?
The school district cannot utilize school district funds to advocate for a bond issue, but there can be independent committees formed with the communities to share their positions and distribute information to patrons.