Top Stories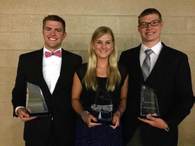 FIVE HEARTLAND FBLA MEMBERS WIN
NATIONAL AWARDS
Nashville, Tennessee, is known as music city and home to the Grand Ole Opry, Country Music Hall of Fame and the General Jackson Showboat—a place where over 10,000 future business leaders experienced Excellence in Action.
Future Business Leaders of America held its National Leadership Conference at the Gaylord Opryland Resort and Convention Center from June 28 to July 3. Allison Braun, Bailey Carr, Tyler Brown, Cody Kroeker, Kaitlyn Quiring, Colton Siebert, Leslie Braun and Ethan Hall along with adviser Kristy Most participated in the weeklong conference activities. Nebraska FBLA was represented by 300 members and advisers who attended the conference to compete at the national level.
While in Nashville, members had the opportunity to network with members from across the nation, listen to workshop presenters and explore the city. On the first night, the delegation enjoyed a buffet supper at Wildhorse Saloon and participated in country line dancing. The next morning they toured the Grand Ole Opry House. At the conference, members listened to Keynote Speaker Sabrina Thompson, who shared her multiple careers involving her passions of media, art and activism. The next two days were filled with competitive tests ranging from Entrepreneurship to Marketing. Heartland members also enjoyed a tour of the Country Music Hall of Fame and dinner on the General Jackson Showboat.
At the Awards of Excellence Program, Nebraska FBLA won 30 competitive event awards. Heartland FBLA brought home 10 percent of those awards.
The Entrepreneurship team of Allison Braun, Cody Kroeker and Colton Siebert placed fourth in the nation. They also received a cash award of $300. This was Allison's fourth time to attend a national conference and her third national award during her high school years. This was Colton's third time to attend a national conference and his first national award and Cody's first time to attend a national conference and his first national award.
Ethan Hall placed seventh and Leslie Braun placed tenth in Introduction to Business. This was their first attendance at a national leadership conference. Also competing at Nationals were Bailey Carr and Tyler Brown in Marketing and Kaitlyn Quiring in Business Law.
Congratulations to the Heartland competitors on another successful FBLA conference!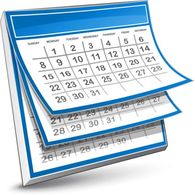 The master calendar has been approved for 2014-15. The format will be much the same as it was this last year. We will begin school for students on August 13th and the "earliest last day" for students will be May 15th. If we have a weather cancellation, the last day would move to May 18th; two cancellations would move the . . . read more

Click on the link below to view the supply list in the pdf format 2014-15 Suggested School Supply List read more