Miller Named ACTEN Outstanding Teacher of the Year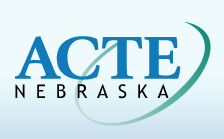 The Nebraska Career Education Conference was held June 3-6, 2019 at the Younes Conference Center in Kearney, Nebraska. During the conference, the Association of Career and Technical Education of Nebraska (ACTEN) named Stephanie Miller the ACTEN Agricultural Education Division Teacher of the Year and the ACTEN Teacher of the Year.
ACTE and ACTEN Member Awards recognize excellence and dedication within the field of career and technical education among ACTE members. Recipients of these awards are exceptional individuals who have contributed to the success of career and technical education through the quality of their work and their involvement in the CTE community.
"From the time I decided to become an agriculture educator, I knew that I needed to stay current with not only my certification, but also with educational and agricultural advancements as well." Stephanie is the Agricultural Education Teacher and FFA Advisor at Heartland Community Schools. To stay current, Mrs. Miller regularly attends professional development opportunities. That includes the Nebraska Ag Ed Symposium, NCE Conference, the National FFA Convention, and the ACTE CareerTech VISION when possible.
As the advisor of the FFA, she provides students the opportunities available to them and then guides them in preparing for the activities. She believes the Heartland FFA chapter is the students' organization and lets them decide how and what they do. By giving the students the ability to choose how far they want to push themselves, ends up making them more successful. A student writes "Mrs. Miller is always willing to come to school early or to stay late for any student that needs help in her class. She sees the potential of each student and helps them become a stronger leader."
ACTEN is the professional association for career and technical educators in Nebraska. Established in 1946, ACTEN has some 350 members across Nebraska including teachers, administrators, teacher educators, career counselors, teacher candidates, business partners and other professionals who support or advocate for career and technical education.
ACTEN is affiliated with the Association for Career and Technical Education (ACTE), the national association for career and technical educators. ACTE is the largest national education association dedicated to the advancement of education that prepares youth and adults for careers.