Quiz Bowl and Math Day
---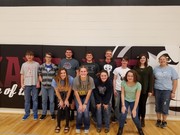 2017-2018 Quiz Bowl Team
---
The Heartland Quiz Bowl and Math Teams have started off to a successful year. On October 18th, six young ladies attended the Young Woman's Quiz Bowl in Seward. The team performed well and was undefeated in the round robin competition. The afternoon brought a single elimination tournament and the team advanced to the second round before falling to Friend. The day ended with a 4-1 record, which was especially impressive, as only one student had competed at the high school level before. Participants were Seniors Krynn Arbuck and Isabelle Vanderneck, Junior Rachael Dente, Sophomore Katelyn Gage and Freshmen Lauren Quiring and Nema Stracener.
October 25th found the team traveling to Seward again for the History/Geography Quiz Bowl at Concordia University. Heartland was represented by Seniors Krynn Arbuck, Aaron Buller, Kyle Ott and Isabelle Vanderneck and Junior Colton Monnier. The day was very similar to the previous week, in that the team went undefeated in the round robin and advanced to the second round in the tournament before being defeated by Osceola.
The final Quiz Bowl competition found the Huskies traveling with the Junior High team to Seward for the AMI Freshman tournament. This was a great experience for the younger team members. The team ended the day with a record of 1-3 after a first-round tournament loss to Bellevue East. Team members included Tobin Glinsmann, Jamie Rowe, Lauren Quiring and Nema Stracener.
The final competition for the fall semester involved the Math Team attending the 28th Annual UNL Math day in Lincoln. With the help of Ms. Thomas, seven students were able to attend the day long competition. Heartland was represented by Seniors Lane Huebert and Sadie Carr, Junior Noah Hiebner, Sophomore Katelyn Gage and Freshmen Tobin Glinsmann, Lauren Quiring and Nema Stracener. Following a welcome ceremony in the UNL Coliseum, the students headed to the Student Union to take a one-hour test covering numerous math topics. The students were then given a tour of the campus before heading to the team competition. The team consisting of Noah, Lane, and Sadie for the quiz bowl team double elimination tournament. After a one-point first round loss to eventual runner-up, Plainview, the team won 4 consecutive matches. This advanced them to the match for 3rd place, where they were defeated by Nebraska Lutheran. Finishing 4th of 16 schools in such a competitive competition is a great accomplishment.
It has been a pleasure to work with these exceptional students. I look forward to the spring semester, when we will continue to represent Heartland in different competitions in the area. Stay tuned for more updates!