FFA in Full Stride this Fall
---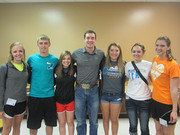 2015 COLT conference with Heartland FFA officers and National Western Region Vice President, Caleb Gustin
---
Stephanie Miller FFA sponsor
COLT Conference in Aurora
During the summer members met and worked with the new Nebraska State Officers during COLT conference in Aurora. They also had a chance to bond with National Western Region Vice President, Caleb Gustin. During their time at COLT officers began to look at what activities we would try to do throughout the 2015-16 school year, as well as worked on building their own leadership skills.
Summer Activities in Bradshaw and Henderson Communities
Members also participated in Community Days by hosting a 3-on-3 Basketball Tournament for going to be 3rd-going to be 8th graders. They also had a float, and hosted a Pie Baking Contest. After the contest, the pie was sold with the option of ice cream. It was a great way to end the evening!
Members then hosted a concession stand at Bradshaw Days annual Tractor Pull. It was a great afternoon, and we got to watch two of our members in the Pull.
Husker Harvest Days
FFA members attended Husker Harvest Days on Wednesday, September 16. They were asked to wear orange shirts to help promote Abilene Machine. Not only did the members receive free orange shirts, they also received a monetary donation from the company for promoting their business.
Not only is Husker Harvest Days a good way to get the kids to see the vast network that agriculture is and the career opportunities that await, they also get in to the show for free by donating to the Heartland United Way food pantry. To top that off, members were required to fill out a scavenger hunt that is hosted by UNL. This scavenger hunt asks the members to find the various agriculture career pathways and have some sort of interaction with each pathway. Possible pathways are: animal systems, plant systems, food systems, agriculture business, agriculture mechanics, and natural resources. For completion of the scavenger hunt, members were awarded a free CASNR (College of Agriculture Science and Natural Resource) shirts.
District Land Judging
On October 7th, FFA members had a District Land Judging contest. It was held in Hamilton County along the Platte River banks this year.
There were 334 high schoolers that competed at Land Judging. We had 8 in the top 50. Addie placed 2nd, Emily Goertzen 11th, Matthew Buller 17th, Cheyenne Hiebner 23rd, Trevor Friesen 24th, Kyle Ott 31st, Vanessa 33rd, and Peyton Ott 39th. Addie qualified for state as an individual. Emily was 5 points away from also qualifying.
Harvest Meal
On Friday, October 9, members took some time from their day off to feed local farmers. This event took place in Bradshaw, at Progressive Ag Inc. This is the third year of the Heartland Chapter hosting the event. I think that the kids enjoy it as much as the farmers appreciate it. FFA members filled the "to go" boxes with pulled pork sandwiches, chips, and a cookie. The pork sandwiches donated by FFA organization, chips were donated by Progressive Ag Inc., the cookies were donated by Central Valley Ag and water by Fontanelle.
Concessions to Raise Money
On October 13th FFA members worked the David City volleyball concessions. The money earned from concessions will help to pay for the chapter dues. FFA members will also work during the conference volleyball games on Monday, October 19 and then December 15 during basketball concessions.

Money earned at concessions on Monday will go towards helping members pay for National Convention. Money earned from concessions in December will go to finish helping pay for dues, and any other activities that we will hold throughout the year.
Other Future Fall Events
Looking towards the rest of the month, next week is State Land Judging out in Scottsbluff, NE. Then 7 FFA members will attend National FFA Convention in Louisville, KY in two weeks - October 27-31.